Record-setting Morgan State basketball player Marvin Webster Dies April 4, 2009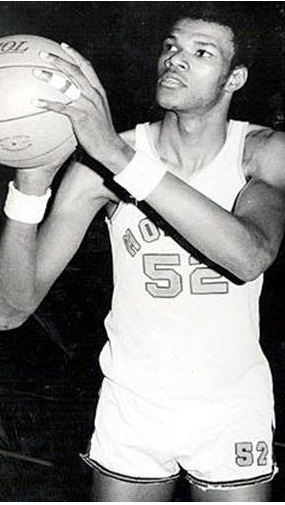 MARVIN WEBSTER lived the good life at Morgan State University in the early 1970s. He was the "Human Eraser," a 7-foot-1 shot blocker who intimidated opponents on the basketball court and who charmed friends and teammates off it with his caring, selfless personality.
Webster lived another life altogether, though, after he left Morgan for professional basketball in 1975. He quickly became one of the game's best big men and enjoyed a 10-year career. But there was tribulation during his career -- dealing with hepatitis and liver disease -- and after it, coping with the loss of an ex-wife who was 39 and a son only 19, Webster passed away on April 4, 2009 nine days short of his 57th birthday.
Former teammates from Morgan's 1974 NCAA Division II national championship team were stunned to hear the news that week, but they were well aware of Webster's continuing health issues. "Marvin was the nicest guy on our team," Joe McIver (Class of '75), assistant director of athletics at Morgan and a member of the 1974 team, said Wednesday. "For his life to go the way it did seems very unfair. "He cared about everybody on our team. We were all happy for him; he deserved to be drafted and all the accolades he received. But the life he lived seemed like a tough life."
Webster starred at Edmondson High after growing up in Baltimore, and he played from 1972 to 1975 at Morgan, where he was renowned for his shot-blocking. In the 1974 championship season, he averaged 21 points, 22.4 rebounds and eight blocked shots. His career totals of 1,990 points and 2,267 rebounds are still school records.
"He controlled games," said Nat Frazier, Webster's coach. "One of my colleagues once said if he had Marvin, he would score 40 points a game. Marvin could've scored 40 points a game for us, but he was a tremendous team player. He averaged 20 [points] and 20 [rebounds]. He incorporated his game into the team game. "I was a very fortunate coach to have him."
Jethro Crum played small forward on that team and last saw Webster at the team's 25-year reunion in 1999. He still remembers going to Bible study with Webster at Morgan. "He was a humble, down-to-earth guy," Crum said. "Very approachable. When he came back from playing in Denver [as a member of the Nuggets], he took me to dinner. He took everybody from the team to dinner."
Webster was a first-round pick in 1975 by both the American Basketball Association and the National Basketball Association; he joined the NBA when the Nuggets were absorbed into the league in 1976. He took the Seattle SuperSonics to the NBA finals in 1978. From there, he signed a five-year, multi-million-dollar contract with the New York Knicks. Even in New York, he didn't forget his Morgan friends. He gave Ivan Young, another former teammate, four tickets behind the Knicks' bench at Madison Square Garden when Young worked for a brokerage firm in Manhattan.
"He was a true professional who worked hard at his job and was good with his teammates and peers," said Hubie Brown, Webster's coach on the Knicks from 1982 to 1984. "And he had a good family, too. You never had to worry about anything with Marvin." Except for his fight with hepatitis. Webster, who contracted hepatitis after Morgan's championship season and played his senior year at a bloated 280 pounds, required medication for the disease. He would grow to resent taking the medicine once he was forced to retire after the 1985 season. He attempted a comeback with the Milwaukee Bucks in the 1986-87 season but soon abandoned the game. "Once he was ill, that contributed to his mind-set."
Webster did make enough money in the NBA to retire to a life of leisure. He held occasional jobs -- as a used-car and clothing salesman -- but primarily traveled the country. Bennett, an Albuquerque, N.M., accountant who worked as Webster's financial adviser after the NBA, said the family he believes that, at the end, Webster was dealing with depression as well as his liver condition. "The illness really had Marvin," he said.
Baltimore Sun reporters Robert Little and Mike Klingaman contributed to this article. (Edited)
Copyright © 2015, The Baltimore Sun