CLASS OF 1975! WE NEED ALL OF YOU!!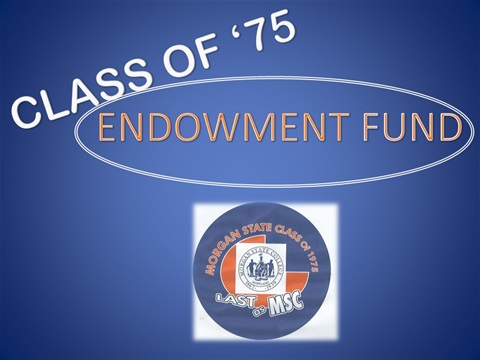 Greetings Class of 1975,

On Friday, December 4, 2020, our class members voted to establish a $10,000 Endowment with the Morgan State University Foundation.

Endowment gifts are invested to produce ongoing income for a designated purpose. Because endowed funds are invested, they have a life-time presence on Morgan's campus and live-in perpetuity. We need to have $2,000.00 submitted with our Endowment application to the Morgan State University Foundation

Class of 1975 WE NEED ALL OF YOU!

Each class member is asked to make a $100 donation towards the $2000 so we can submit NLT February 2021. Any donation until December 31, 2020, will count towards Tax Donations for 2020.
The 2nd Installment is due by February 14, 2021.
Send your Endowment Donations to:
Mrs. Joycelyn Richardson Williams
4038 Hillen Road
Baltimore, Maryland 21218
Email: jomjoycelyn@aol.com
(443) 326-7962 - Cell

Checks and/or money orders should be made payable to: Class of 1975 – Morgan State University
Or
Make your donation is via PayPal. The link is http://paypal.me/MSU1975
Be sure to uncheck the goods and services block.
Recently added you may also make your payments one of the two following ways:
Sincerely Yours,
The Class of 1975 Endowment Committee Coordinators:
Bernard Andre' Barnes Email: bbarnes605@gmail.com Cell - (571) 237-7910
Glenda Lindsey Email: glendalindsey@msn.com Cell - (410) 370-7083
ZOOM MEETING CLASS OF '75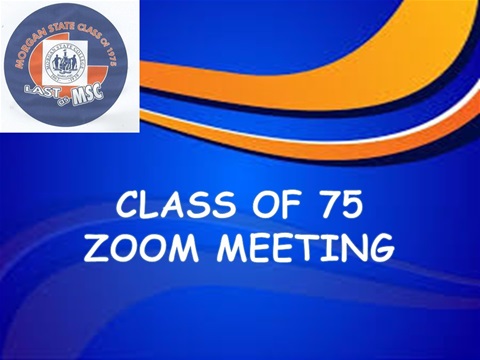 Connie Dennis Andrews is inviting you to a scheduled Zoom meeting.
Topic: Morgan State Class of 1975 - 45th Anniversary Zoom Celebration
Time: May 29, 2020 07:30 PM Eastern Time (US and Canada)
Join Zoom Meeting
Meeting ID: 865 7589 5063
Password: 722876