THE CLASS OF '75 PRESIDENT KENNETH B. GOODRICH PASSES IN 2012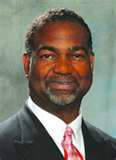 Kenneth B. Goodrich, M.D

., a board-certified specialist in women's health services died on February 12, 2012, the family will hold services for

Dr. Goodrich

, February 18, 2012 in Atlanta, Georgia.
In addition to general obstetrics and gynecology services,

Dr. Goodrich's

areas of specialization included advanced laparoscopic and hysteroscopic surgery, gyn-urological surgery for patients with urinary incontinence and in-office loop electrosurgical excision procedure (LEEP) and hysteroscopic procedures.

Dr. Goodrich

also authored several articles focusing on aesthetic services in a gynecologic practice as well as specialized topics including "Common Causes of Abnormal Uterine Bleeding," "HPV, Genital Warts and Cervical Cancer," and "One Day Hysterectomy." Dr. Goodrich authored several pamphlets in 1988 for the AIDS Prevention Institute.
In addition to a focus in his medical practice on teen pregnancy prevention,

Dr. Goodrich

developed comprehensive teen pregnancy prevention programs for the city of Pittsburgh, Pittsburgh City Schools and Western Pennsylvania communities. From 1988 to 1990, he served as co-chairperson of Pittsburgh Mayor Richard Caliguri's Commission on Teenage Pregnancy Prevention.
Dr. Goodrich

completed his undergraduate studies at Morgan State University in Baltimore, Maryland, and obtained his medical training at the School of Medicine, University of Pennsylvania, Philadelphia. He completed his obstetrics/gynecology residency at Magee Women's Hospital, University of Pittsburgh in Pittsburgh. The women's health specialist is board-certified in obstetrics and gynecology by the American Board of Obstetrics and Gynecology. Dr. Goodrich joined Bradford Regional Medical Center in 2008 from his most recent appointment as Medical Director of Family Planning and provider of gynecology services and surgical procedures at PhysicianCare, P.C., in Towanda, Pa., since 2005. From 1984 to 2004, he maintained a private obstetrical/gynecologic practice in the suburbs of Pittsburgh. Dr. Goodrich has also provided services at Allegheny Valley Hospital, Natrona Heights, Pa., HMO of Western Pennsylvania, New Kensington, Pa., and Citizen's General Hospital, also in New Kensington.
Dr. Frank Sessoms of Pittsburgh and a longtime friend of

Dr. Goodrich

said in an interview with Pittsburgh Urban Media this morning that Dr. Goodrich will be missed by many who loved him. "

Kenny

was a brilliant physician, a terrific human being and a devoted family man; he was a lot of fun to be around.

Kenny

enjoyed working with his fraternity,

Alpha Phi Alpha

and he enjoyed sailing and traveling, he had a boat called "Kens Dream". He was my brother."
Family-Placed Death Notice
GOODRICH, Kenneth Bernard

, M.D. Celebration of Life and Legacy for

Kenneth Bernard Goodrich, M.D.

who passed away on February 12, 2012 will be held Saturday, February 18, 2012 at 11:00 AM at Ben Hill United Methodist Church, 2099 Fairburn Rd., SW. The Rev. Richard D. Winn, Senior Pastor. Family and friends will assemble at the church at 10:30AM on the day of service. He leaves to share his precious and fond memories, wife, Terri Smith Goodrich; children, Khalid, Kamilah, Kenneth; mother, Johnnye Goodrich; siblings, Eric (Linda), Reginald (Venora), Vikki (Antonio), other loving relatives and friends. NO VIEWING. Murray Brothers Cascade Chapel 404-349-3000.

www.mbfh.com